Conall McDevitt sent bullet death threat in post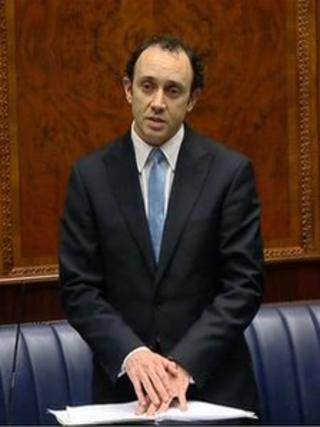 A death threat has been made against the SDLP's Conall McDevitt.
The Stormont Assembly Member for South Belfast received a bullet and sympathy card, through the post on Wednesday.
Mr McDevitt described it as "futile" and said whoever was behind it would be "defeated, peacefully and democratically".
His party condemned the threat and said it was the latest in a series of threats against Mr McDevitt and other politicians since December.
Elected representatives from several political parties in Northern Ireland, including the SDLP, Alliance, Sinn Fein and the DUP, were the subject of death threats following a controversial vote over the union flag at the end of last year.
'Determination'
On 3 December, Belfast City Council changed its long-standing policy of flying the flag at the city hall on every day of the year, voting to limit the display to designated flag days only.
Mr McDevitt said: "These threats only strengthen my determination that we must work towards a better future for everyone in this region, and will not prevent me from doing the job I have been democratically elected to do."
In a statement, the SDLP said the postal threat followed a similar threat on its Mid-Ulster MLA Patsy McGlone and an attack on the home of its Belfast councillor Claire Hanna.