Judges 'must act without external influence'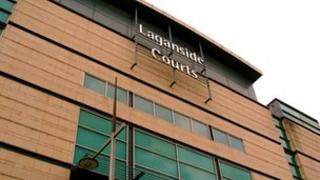 A senior official within the office of NI's top judge has said it is vital that judges can consider the merits of individual cases independently.
The comments by the Lord Chief Justice's principal private secretary followed criticism about a perceived bias in recent bail decisions.
The first minister and other unionists said there was an image of "double standards".
But Laurene McAlpine said courts must act without external influence.
Last week, a senior republican facing IRA membership charges was released on bail, but two union flag protestors were remanded in custody.
It prompted the complaint by First Minister Peter Robinson.
At Northern Ireland Question Time in the House of Commons, the DUP's Nigel Dodds asked Secretary of State Theresa Villiers if she understood the anger and bewilderment felt by unionists.
There was a perception, he said, of double standards by the courts.
But in her letter to the Stormont Justice Committee, Ms McAlpine said that in deciding whether to grant bail, judges have to take into account a number of matters.
These included a risk that the accused would not appear for trial, the prevention of further offences and the preservation of public order, she said.
Ms McAlpine said public representatives were entitled criticise decisions made by the courts, but that it was "important that judges should be free to act independently and without improper influence".
Earlier, the secretary of state said it was up to the courts to decide who should get bail.
Theresa Villiers told the Commons that granting bail was a matter for the courts, which would take their own decisions based on the risk of someone re-offending.
The Alliance's Naomi Long said that when the police were under extreme pressure it is important all political leaders give their unambiguous support to the rule of law, rather than simply becoming a voice for dissent.
The secretary of state agreed, praising the police who she said were doing an outstanding job.