Kia 'won't sell Provo car in UK'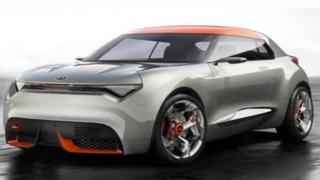 The South Korean car manufacturer Kia has said it does not plan to sell a model called the 'Provo' in the UK.
Earlier this week, the firm unveiled a model using the name, often used for the Provisional IRA during the Northern Ireland Troubles.
That prompted DUP MP Gregory Campbell to table a parliamentary motion which said the name would be offensive to many victims of the Provisionals.
Kia said the car was a special model planned for a Swiss motor show.
Mr Campbell welcomed "Kia's swift action" in disavowing plans to sell a car with the Provo name.
"Obviously a large multi-national company may not be aware of all the connotations surrounding a particular name," he said.
"However, in such circumstances it is important that they act quickly when they are made aware that the name is actually linked to a terrorist campaign.
"The motion which I had tabled in the House of Commons was aimed at making Kia aware of the particular sensitivities and to request a change.
"In this case Kia have acted quickly and issued a clear statement that they will not launch a car in the United Kingdom with this name and will not utilise this name in any other way."
Motoring correspondent Derek Black said it was important to remember that the car and its name were never actually destined for the production line, never mind the UK car market.
"It's only a show car, I don't think they have any plans at the moment to put it into production," he said.
"They put them on at motor shows and they gauge the public reaction to them. This is them trying to test the market for a sportier Kia.
"You're talking about a global company here and the sensitivities in one part of the world might be lost on them.
"They were probably not even aware of the significance of the name in the UK."
'Little bit of frivolity'
Stephen Kitson, corporate communications director at Kia Motors UK, said the implications of the Provo's name were equally unintended.
"This car is a showcase, it's a little bit of frivolity, it's for a motor show in Switzerland designed by an Italian at a design studio in Frankfurt," he said.
"The name of the car is chosen for its debut by the designer."
Mr Kitson, who lived in Northern Ireland himself as a child, said the Provo name actually comes from the Italian word prova, meaning test or trial, or prototype.
"It's a play on the Italian word and it was also linked to the desire to provoke emotions, to provoke aspirations, to make the car exciting and fun," he said.
"We're sorry if anybody takes offence at it, but this car is not about Northern Ireland.
"It won't have the slogan No Surrender on the boot, we're not going to do a Free Derry special edition or anything of that nature.
"It's to show what Kia's designers are thinking, to gauge opinions and get feedback on the car, not the name."
Pressed for his own favourite name for a car, Mr Kitson didn't hesitate.
"I'd probably say the Kia Cee'd, especially as Jeremy Clarkson calls it the C-apostrophe-D on Top Gear.
Seemingly innocuous
"That would be my favourite, quite simply because Jeremy's talked about it a great deal and as Oscar Wilde once said, there's only one thing worse than being talked about and that's not being talked about."
Seemingly innocuous names have long caused problems for car companies selling across borders and cultures.
In 2003, managers at General Motors in Canada were forced to rebrand their new Buick LaCrosse after discovering it had a special, embarrassing, meaning in French Canadian slang.
Japan's Mitsubishi had to change the name of its Pajero model for Spanish-speaking markets for similar reasons.
And when Ford's Pinto failed to entice buyers in Brazil the company wanted to know why.
It discovered that in Brazilian slang pinto means "tiny male genitals". The company's reaction was to have all the badges prised off and replaced with one meaning "horse".