Loyalist protesters interrupt Stormont Assembly proceedings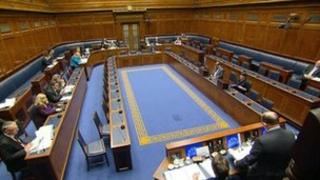 Loyalist protesters have interrupted proceedings at the Stormont Assembly.
The public gallery was briefly cleared after protesters shouted "this is a farce" and other remarks during the session on Monday.
A Traditional Unionist Voice (TUV) spokesman told the BBC the protesters were from the victims group, FAIR.
He said they were angered that FAIR's former director, Willie Frazer, was denied bail over charges linked to the union flag protests.
Mr Frazer has been a prominent spokesman in the union flag dispute that began in Belfast on 3 December, following a council vote to restrict the number of days the flag is flown at the city hall.
The 53-year-old was refused bail when he appeared before Belfast Magistrates Court on Friday.
He faces six charges, including taking part in an un-notified public procession, obstructing traffic and possessing a stun gun.
Mr Frazer founded the south Armagh-based organisation, FAIR, more than 13 years ago to support victims of republican violence.
However, he stepped down from the role last November.