Brian Shivers on trial for Massereene murders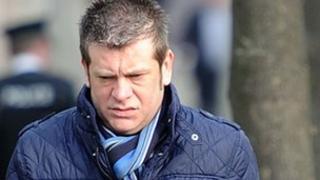 CCTV pictures of the moments when two soldiers were shot dead at Massereene Barracks in Antrim have been shown at the start of a murder trial.
They are part of the prosecution evidence against Brian Shivers, 47, from Sperrin Mews in Magherafelt.
He denies involvement in the March 2009 Real IRA attack.
Sappers Mark Quinsey, 23, from Birmingham, and Patrick Azimkar, 21, from London, died in the shooting.
There was silence inside Laganside courthouse on Wednesday when the video was shown.
Initially five soldiers were seen coming out of the base, approaching one of the drivers in the hope of a last pizza before deployment to Afghanistan, which was just hours away.
Already dressed in desert fatigues, they went to the second driver, who had just arrived, before two gunmen began spraying the area with gunfire.
When the video stopped, Mark Quinsey and Patrick Azimkar lay dead or dying. Two other soldiers and two pizza delivery men were seriously wounded.
The prosecution described the attack as "short, sustained, and deadly".
They said after the initial burst of fire on the group, the gunmen had moved forward to fire at individuals, even firing at them as they lay on the ground.
The gunmen fired 65 rounds using two AK assault rifles, one of which had been used in a previous attack on the security forces.
At one stage, one of the gunmen was seen reloading his weapon and firing again before escaping in a car.
The prosecution claimed that the partly burnt out car, complete with a "terrorist kit" including a supply of ammunition and two mobile phones, was discovered seven miles away.
In the back of the car, two used matches were found. The prosecution claimed they bore Mr Shivers' DNA.
The prosecution also claimed that a low-level mixed DNA profile from Mr Shivers was also uncovered from a third used matchstick which was found on the roadway near the car.
In addition, a further partial DNA profile was recovered from inside one of the mobile phones left abandoned in the car.
Also on that phone was a short recording where the gunmen were being praised and congratulated for the way they carried out the attack.
The prosecution claimed that their evidence against Shivers was both "persuasive and cogent".
They said his alibi of being home all night did not stand up to scrutiny.