Bomb is found outside church in Glengormley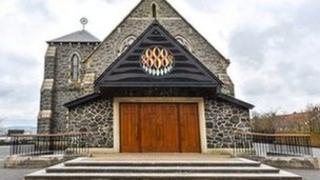 A small bomb has been found in the grounds of a Catholic church in Glengormley, County Antrim.
It was found outside St Mary's on the Hill Church on the Carnmoney Road at about 22:00 GMT on Saturday.
The Carnmoney Road was closed for a number of hours while Army bomb disposal experts made the device safe. A number of homes were evacuated.
It has now been taken away for forensic examination. Police described it as being "crude but viable".
Parish Priest Father John Forsythe condemned those responsible.
"Not only was the church disrupted, but the road nearby had to be blocked off last night and everybody, no matter who they were, were inconvenienced by it," he said.
"I feel sorry for them if that's all that they have to do."