Unionist Forum work 'too little too late': Naomi Long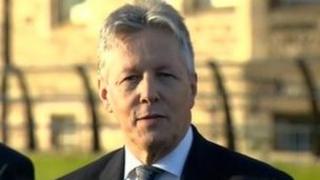 East Belfast MP Naomi Long has said the work of the Unionist Forum is too little, too late.
First Minister Peter Robinson told the BBC the forum had got several working groups, assessing how best to deal with issues raised during flag protests.
Ms Long's constituency offices were targeted during the protests
The Alliance Party MP said the issue of the flying of the union flag at Belfast City Hall should have been addressed long ago.
"They've known this issue was on the agenda in Belfast for 10 years and there has been no progress from unionists in terms of how they were going to progress the issue," she said.
"The time for discussion around the flags issue in Belfast, certainly I think, was 10 years ago, when it was raised in 2002."
Mr Robinson said each of the working groups would look at specific concerns within unionist and loyalist communities.
The forum was established by the DUP and the Ulster Unionist Party
It aims to address the ongoing union flag protests and other concerns within the unionist community.
"The working groups have been agreed and we wait to get the reports back from each of them," Mr Robinson said.
"That's on flags and parades, it's on registration of people in order to vote, it's dealing with underachievement in education in terms of some working class Protestant communities.
"It deals with a whole range of issues."