Martin McGuinness respects right to British identity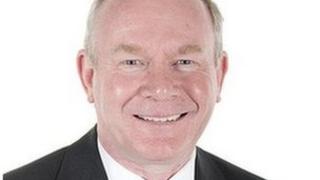 The deputy first minister has said he will guarantee the right of any citizen in Northern Ireland to their British identity.
Martin McGuinness said all he asks for in return is for the "same respect and recognition to be given to his Irishness".
Mr McGuinness made the comments at the Sinn Fein Youth Conference in west Belfast.
He also criticised the leaders of the unionist parties.
Mr McGuinness said he believes the political leadership of unionism is behind where many ordinary unionists are on this issue of constructing a genuine process of reconciliation.
But, he admitted that this also presents challenges for republicans, saying reconciliation is not a one way street, as "republicans also caused much hurt".