Jamie Bryson remanded in custody over Belfast union flag protests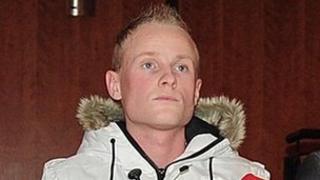 Leading loyalist campaigner Jamie Bryson has been remanded in custody on six charges connected to the ongoing union flag protests in Belfast.
He was charged with encouraging or assisting offences, and taking part in an unnotified public procession.
Another man, former BNP fundraiser Jim Dowson, was released on bail after appearing on similar charges.
There have been protests since Belfast City Council voted to limit the flying of the union flag from city hall.
Mr Bryson, 23, of Rosepark in Donaghadee, is chairman of the Ulster Peoples' Forum which was set up in the wake of the protests.
District Judge Bernadatte Kelly told him she shared police concerns that if released he would pose a "flight risk" having heard how he refused to hand himself over to officers knowing they were looking for him.
Mr Dowson, from the Burn Road in Comber, was released on bail on strict orders that he is not to use a telephone except in an emergency situation.
Judge Kelly ordered the 48-year-old, who also faces four charges of taking part in an unnotified public procession and encouraging or assisting offences, to hand over any and all of his mobile phones, any computer he has in his home and not to go within a kilometre of any parade, protest or procession.
Having heard that Mr Dowson - who is originally from Airdrie in Scotland - contributes to dozens of Facebook pages and regularly addresses crowds gathered at Belfast City Hall, Judge Kelly also ordered that anyone who lives with him must also hand over any communication device they have.
A third man prominent in the protests, County Armagh campaigner Willie Frazer, appeared in court on Friday.
He faces six charges linked to the flag protests in Belfast and was refused bail.