Sean Hughes, 51, bailed over IRA membership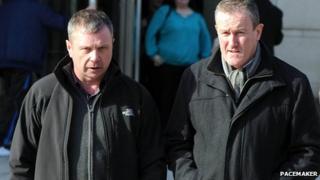 A south Armagh man has appeared in court charged with IRA membership.
Sean Gerard Hughes, 51, from Aghavadoyle Road in Jonesborough, was arrested earlier this week by police making inquiries linked to the murder of Robert McCartney in 2005.
Sinn Fein MP Conor Murphy and MLAs Megan Fearon and Rosie McCorley were in the public gallery for the hearing at Belfast magistrate's court.
The accused was granted bail.
As part of his bail conditions, the accused must live at his home address, report to police once a week and not contact any witnesses in the case.
Mr Hughes is also charged with speaking at a meeting and encouraging support for an illegal organisation, specifically the IRA.
Outside the court, Conor Murphy said the charges had been brought as a result of political policing.
Robert McCartney, a father-of-two from Belfast's Short Strand, was stabbed to death in 2005.
The murder had major repercussions for Sinn Fein, as it was accused of obstructing justice.