Belfast union flag protest hearing is brought forward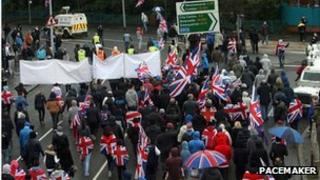 The union flag protest situation is deteriorating amid an impasse between police and the Parades Commission, the High Court has been told.
A lawyer for a nationalist resident challenging the weekly marches into Belfast city centre also claimed it could get worse in the months ahead.
The warning came as a hearing date for the case was moved forward to March.
Judicial review proceedings have been brought against both the PSNI and secretary of state.
A resident of the Short Strand area, who has been granted anonymity, claims that an unauthorised parade is being allowed every Saturday from east Belfast to the city centre.
Violence has flared on a number of occasions as loyalists protesting at the decision to limit the flying of the union flag at Belfast City Hall pass the area en route to their destination.
According to the case being made in court, legislation that requires the Parades Commission to be notified about processions has been repeatedly violated.
A judge who granted leave to seek a judicial review had listed the challenge for a full hearing in April.
But as the new date was confirmed on Thursday, Karen Quinlivan, the QC for the resident, said the situation was urgent.
"Matters have deteriorated in the sense that there is quite clearly an impasse in which (police) call for judicial clarity in relation to this issue," she said.
"The chief constable has one view about the legal situation and the Parades Commission has another."
Earlier this week the commission said it has no role to play in the vast majority of the protests.
The position was set out after Chief Constable Matt Baggott suggested the laws surrounding un-notified parades might need to be reviewed.
Ms Quinlivan also pointed to speculation that the Orange Order may decide not to give notification to the parading authority.
With the marching season now under way, she told the court: "This matter could not just deteriorate, but degenerate in the coming months."
Mr Justice Treacy, who will decide the challenge, listed it for 15 March.
"This is an important case and I'm sure all the parties will be anxious to have it dealt with as quickly as possible," he said.
Loyalist street demonstrations have been taking place since 3 December, when Belfast City Council voted to limit the number of days the union flag is flown at Belfast City Hall.
The majority of the street demonstrations have passed without incident, but some have resulted in serious rioting.