Device explodes outside east Belfast house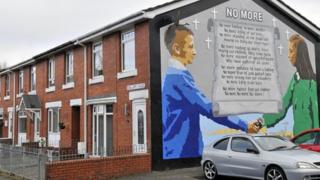 An explosion outside a house in east Belfast was caused by an "extremely crude" device.
Police had initially said it was caused by a pipe bomb, but now say that was not the case.
Parts of the device have been removed by army bomb experts.
The incident happened at a house in Kenilworth Place, off the Newtownards Road, at about 20:30 GMT on Wednesday. No-one was in the house at the time and no-one was injured.
A number of homes were evacuated for a time. Community worker Jim Wilson said residents in the area were angry at the attack.
"It's just another fact of living in an interface that these things happen," he said.
"But they were pretty angry that an individual house had been selected, for whatever reason, for someone to plant a device like that, because my young grandson lives three or four doors down and there's young children play in this area on a regular basis.
"If that had exploded if any of them children were about... God knows what would have happened."
The Newtownards Road between Bridge End and Templemore Avenue was temporarily closed during the alert.
Ulster Unionist MLA Michael Copeland said he understood that there was a bang and people close by found a fire which they put out with a bucket of water.
"This is unnerving, particularly for children. It does spook people. It adds to the general feeling that things are not all the way they should be," he said.
First Minister Peter Robinson condemned those responsible for the device.
"This incident and others, including a hoax device in Newtownabbey last night are attempts by a small minority to use fear and intimidation.
"There are a small number of people in our society who believe they can use violence or threat to drag Northern Ireland back to the past.
"People want to leave this behind and I know that the community stands united against those responsible."
Meanwhile, a security alert in Newtownabbey on Wednesday night was declared an elaborate hoax.
Army bomb disposal experts dealt with a suspicious object at Altnacreeve Park.
A number of homes were evacuated but residents were allowed to return at about 02:40 GMT.