Queen's £32m medical centre to create 400 jobs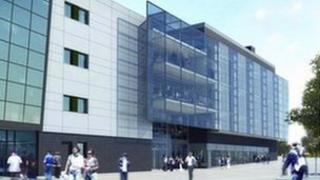 Four hundred jobs are being created during the construction of a £32m Centre for Experimental Medicine at Queen's University in Belfast.
Work is beginning on the site this week.
More than 110 jobs will also be created for scientists and others when the centre opens its doors in spring 2015.
It will specialise in scientific research, with the aim of finding cures for eye disease, diabetes and genetic illnesses.
The new CEM is being built on Queen's Institute of Health Sciences campus on Jubilee Road, Belfast, where a number of dedicated, high quality research centres focused on cancer, infectious disease, public health and population genetics are already based.
Almost half of the funding (£15m) was donated by The Atlantic Philanthropies, the largest gift QUB has ever received.
Eamon O'Hare, managing director of O'Hare & McGovern, which is the main contractor, said: "The construction industry is currently a very difficult sector to be operating in.
"We are delighted to have been awarded this contract to continue our longstanding relationship with Queen's.
"The new centre will offer world class facilities for the university with exceptional design, construction and engineering.
"This announcement will help to secure jobs and offers an impetus to the local construction industry."