James McClean closes Twitter account after Wolfe Tones song row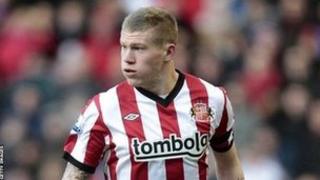 Sunderland footballer James McClean has closed his Twitter account after a row over a tweet in which he named an Irish rebel anthem as his favourite song.
The Wolfe Tones song, The Broad Black Brimmer, tells the story of a boy whose father is killed fighting for the IRA.
The Daily Mail said the club banned McClean from Twitter after his tweet prompted wide media coverage.
Sunderland AFC would not comment on this, but confirmed the Londonderry-born player was no longer on Twitter.
McClean had tweeted at the weekend: "On flight for the maras game. Only one thing for it -headphones in, Wolfe Tones on! What's everyone's fave song? Broad Black Brimmer edges mine."
In response, East Londonderry MP Gregory Campbell, of the DUP, said: "As someone playing football at a professional level for Sunderland, McClean should be an example to young people.
"It is obviously up to his manager to decide what course of action to take now."
McCleans's club manager is Martin O'Neill, the former Northern Ireland international, who recently said the club had previously advised McClean against appearing on Twitter.
Mr Campbell had added at the time of his initial statement: "Three simple words should suffice: stick to football. If he doesn't heed this then a final three words should be given: pack your bags."
McClean has run into controversy on Twitter in the past.
The 23-year-old came in for abuse on the social networking site for his decision not to wear a Remembrance Day poppy on his shirt last year and before that for opting to play for the Republic of Ireland rather than Northern Ireland and his subsequent tweets directed at NI fans.
He also provoked the ire of Ireland manager Giovanni Trapattoni after expressing disgust at being left out of the team for the Republic's World Cup qualifier in Kazakhstan in September, for which he later issued an apology.
He took a long break from using Twitter last May, but returned to it last month.
The Wolfe Tones are an Irish folk band known for their rebel songs.
They are named after Theobald Wolfe Tone, one of the leaders of the Irish Rebellion of 1798,