Antrim Area Hospital A&E failing to meet targets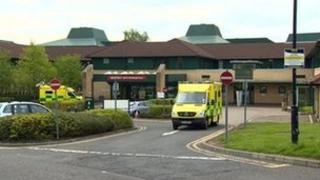 The A&E department at Antrim Area Hospital is still not meeting its targets, according to figures obtained by the BBC
They show regular breaches of waiting time targets. Last week, 100 patients waited 12 hours or more before being admitted.
There was another major spike in waiting times from 5 to 11 January when 132 people waited 12 hours or more.
The trust has apologised to anyone who "had a bad experience".
In December, the chairman of the Northern Health Trust, Jim Stewart, was sacked by Health Minister Edwin Poots after targets for the A&E department were not met.
The minister then brought in experts from England to support the team in an attempt to boost the unit's performance.
Janice Smyth of the Royal College of Nursing said nurses in emergency departments were struggling to care for patients.
"I think that we have had some problems in our emergency departments for some time," she said.
"Behind the numbers and targets, what we all need to remember is that there are people, individual human beings with their own circumstances who require medical care and attention.
"To have to wait up to four hours for someone to tell you whether you need to go into hospital or not, then up to 12 hours or more to get a bed in that hospital, is totally unacceptable.
"It's predominately nursing and medical staff who are left to deal with the consequences of a system that does not work."
In a statement, the trust said it had introduced a range of measures to improve access to unscheduled care.
It added: "It has taken a whole system approach, meaning all activity is not solely focused on the emergency department, but on improving patient flow throughout the hospital to create capacity for emergency department admissions.
"This has resulted in a 40% decrease in the number of patients waiting 12 hours for admission to hospital compared to this period of time last year."
The trust's Margaret O'Hagan said Antrim A&E was "too small for the service that it's trying to provide".
"We will have a new department at the end of June which will give a lot more space for patients to be seen and treated," she said.