Basil McCrea and John McCallister set up new unionist party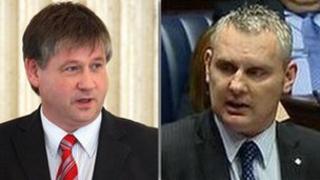 Two former Ulster Unionists who resigned over a decision to field a joint by-election candidate with the DUP are setting up a new party.
Basil McCrea and John McCallister said their party will be "confident, progressive and pro-union".
The pair resigned from the UUP earlier this month after the party agreed to a single unionist candidate to contest the Mid Ulster by-election on 7 March.
So far, they are the only two members and the party has no name as yet.
By the time it is officially launched, probably in April, both those things will have changed.
However, they have agreed that Mr McCrea will lead the party.
The Lagan Valley MLA said: "We're committed to the union. We think that's the right way for Northern Ireland to go forward but we don't think that we need to wave flags - wrap ourselves in the flag - to provide the leadership that Northern Ireland needs."
Mr McCrea added that they wanted to "find a name that is inclusive of all sections of Northern Ireland community".
He also said they wanted to appeal to voters of all religions.
"We have had a lot of representation from people that say something like: 'I am a Catholic unionist, in other words I am happy with Northern Ireland in the way that it's set up, I want Northern Ireland to succeed'.
"So we think we are completely different from a number of the other parties that are existing in there (Stormont).
"If we thought that they were the solution, not only would we be with them, but so would other people."
The pair have not denied that they spoke to other parties before reaching the decision to form their own.
They also spoke to another former Ulster Unionist assembly member, David McClarty.
However Mr McClarty said he wanted to remain an independent for the time being.