O'Dowd anger at tardy plans for school closures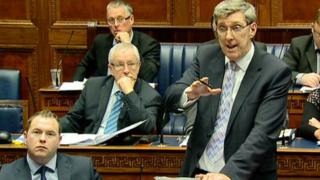 Northern Ireland's Education Minister has said he is unhappy at the slow progress of some education boards in planning to shut unsustainable schools.
Sinn Fein's John O'Dowd is forming a steering group to speed up the process of closing and rebuilding.
There are 215 secondary and grammar schools in Northern Ireland and almost half of them have fewer than the recommended 500 pupils.
The minister is eager for education boards to close unviable schools.
He said there were firm plans for some sectors, such as amalgamations among Catholic maintained secondary schools in Lurgan and the grammar schools in Enniskillen.
However, he said that in some other areas, such as west Belfast, plans have not moved quickly enough.
Mr O'Dowd said that was unacceptable and he wants the Catholic authorities to develop definitive solutions.
He added that he wanted his steering group to "maintain momentum" for change.
"This group, under the chairmanship of my department, will co-ordinate and oversee the continuing development of the area plans," he said.
"Membership will include the controlled, maintained, integrated and Irish-medium sectors."
All the latest plans have been published on the boards' websites.
Primary schools are the next target and the minister will reveal proposals by the middle of March.
The educational structure of Northern Ireland is quite complicated, with several different bodies involved in management and administration.
There are more than 80,000 empty places in schools and the minister has said some may have to close to improve the quality of education children receive.