Almost 3,000 police officers volunteer for G8 security duty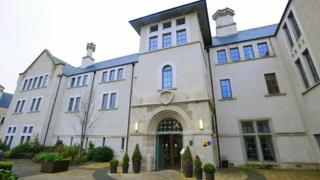 The Police Service of Northern Ireland says nearly 3,000 officers from forces in Britain have volunteered to be part of the huge security operation for the G8 summit in County Fermanagh in June.
That is in spite of police unions in the rest of the UK advising their members not to volunteer until safety and insurance issues are resolved.
The security operation will be the largest the PSNI has ever mounted.
World leaders gather for two days at Lough Erne golf resort in Fermanagh.
It will be the first time the annual summit has been held in the United Kingdom since it was at Gleneagles in Scotland in 2005.
'Threat'
More than 5,000 officers will be on duty around key sites.
They include the Lough Erne golf resort and Belfast International Airport, where US president Barack Obama, German Chancellor Angela Merkel and others are expected to land before being taken to Fermanagh by helicopter.
The number of officers needed is more than the PSNI can provide so more than 3,000 officers will be from other police forces in Britain, brought in under what is called an agreement for mutual aid.
Police unions in Britain have advised their members not to volunteer for duty until a range of issues are resolved.
Brian Docherty, chairman of the Scottish Police Federation, said: "I find it strange that Northern Ireland was chosen as a venue, bearing in mind the amount of pressure and the working conditions that the PSNI is under just now.
Oversubscribed
"Officers are under threat every day. It is a whole different form of policing from that we know back in (the rest of the) UK.
"To enter G8 into that particular mix, I find it unbelievable. I find it strange that they would do that."
But the BBC understands that an initial request for nearly 3,000 additional officers has been oversubscribed, with some forces having to run selection processes.
The PSNI officer in charge of the G8 operation, ACC Alistair Finlay, said he was confident that the unions' concerns over safety and insurance would be addressed.
"We are meeting with them and working through with them their particular issues with a view to coming to a resolution that satisfies everybody," he said.
Training
"In the meantime they have just made their concerns aware to their membership, which seems a reasonable thing to do."
ACC Finlay added "high numbers" of people had already volunteered to take part in policing the G8 summit.
"I don't anticipate we're going to have really too much difficulty in getting the people that we need," he said.
PSNI officers are due to travel to England and Scotland shortly to provide training for those who have volunteered for the security operation.