Special school bus overturns in Downpatrick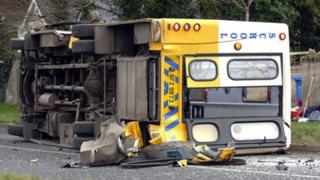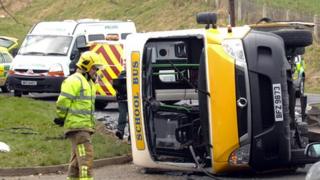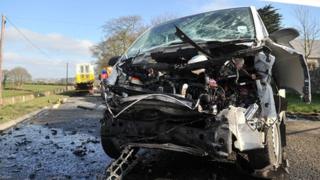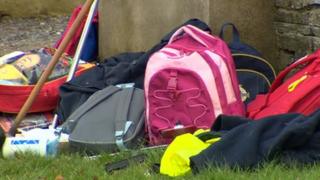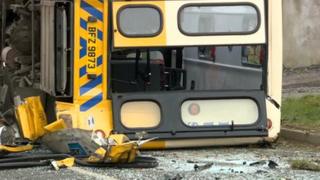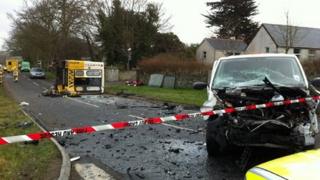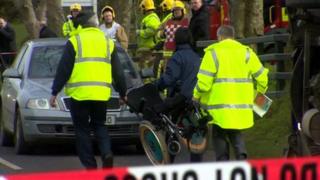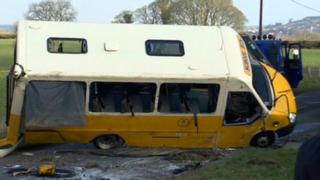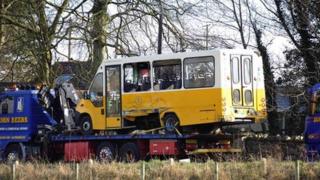 A school bus carrying 13 special needs pupils overturned near Downpatrick, County Down.
The bus was going to Knockevin Special School when it was in collision with a van on the Vianstown Road just before 09:00 GMT.
The children are not believed to have been badly injured in the accident. However, police said they and the driver were "shaken" by the crash.
Two passing women motorists went into the vehicle and got the children out.
The children were taken to a nearby house where they were comforted until the emergency services arrived.
Eight of the children were taken to the Ulster Hospital in Dundonald and five to the Downe Hospital.
The bus driver and a carer who was on the vehicle were also treated at the Downe.
All have since been discharged, except one boy who has been kept in at the Ulster for further investigation.
Dr Stuart Kane, a GP in Downpatrick, rushed to the crash site after hearing the sirens of the ambulances.
"It was a nightmare scene, a big school bus on its side with shattered glass everywhere," he said.
"The children had all been seen by a doctor with the ambulance service."
He added that all of the injuries were relatively minor and ranged from cuts and bruises to one suspected fractured collar-bone.
Meanwhile, a school bus caught fire on High Street, Moneymore, on Tuesday morning.
The rear of the vehicle was badly damaged.
There were no children on board.