Woman came from England to shoplift in Sainsbury's in Sprucefield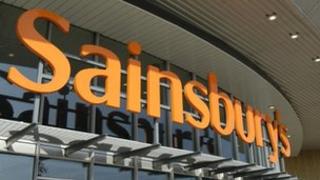 A woman travelled from England to Northern Ireland to go on a supermarket shoplifting spree, a court has heard.
Sylvia Eastwood claimed she was told to target Sainsbury's at Sprucefield, Lisburn, by a man she met near a Dublin prison, prosecutors said.
Clothes worth £500 were loaded into a trolley during the raid carried out by two women last week.
Eastwood, 30, of Cremorne Gardens, Epsom, Surrey, admitted a charge of theft and will be sentenced next month.
She was refused bail on Tuesday.
The second suspect has not yet been caught.
During a failed bail application the High Court heard how police were called to the store on 20 February.
Counsel for the prosecution said Eastwood told officers the two woman had gone to Sainsbury's especially to shoplift.
"She said she met a man near a prison in Dublin who asked her to do this," the barrister said.
"She said he threatened her if she didn't steal for him."
A defence lawyer accepted that any pressure put on his client was minimal.
He added, however, that her purpose for travelling to Ireland was to attend a funeral in Drogheda.
Bail was refused due to the risk of Eastwood not turning up for her next court appearance.
Mr Justice Horner said: "Whatever way you look at it, on her own admission she was taking part in a shoplifting spree in Sprucefield.
"She is unlikely to return for trial and I also conclude there is likely to be a risk of further offences which cannot be managed by conditions."