Bomb alert in north Belfast was a hoax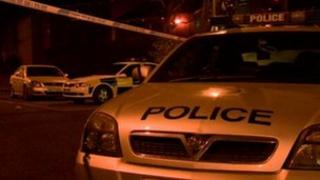 Police have now said a bomb alert in north Belfast was a hoax.
Army bomb disposal officers carried out a controlled explosion on a suspicious object that was found on the Cavehill Road, close to a police station.
A former Sinn Fein councillor, Mick Conlon, said he found the object while walking on the road on Monday evening.
It had been left at the rear of Antrim Road PSNI station, in an area that is also close to Mr Conlon's home. About 35 houses were evacuated.
Mr Conlon told the BBC: "I was coming down the Cavehill Road earlier on and I noticed a carton of soup with black wires around it - black tape, black wires."
He said he called out to a neighbour and asked him what he thought the object was.
"We went over and had a good look at it and it looked very suspicious," Mr Conlon said.
"There were people coming home from work, there were kids in the park so we thought we better phone in the police to get the bomb squad up."
He said Army bomb disposal officers arrived quickly and carried out a controlled explosion.
Mr Conlon added that many of his neighbours, including elderly people were forced to leave their homes "on a cold night" due to the hoax alert.
The Cavehill Road was closed between the Antrim Road and Willowbrook Gardens during the operation. It has now reopened.