Parades Commission has "no role" in majority of union flag protests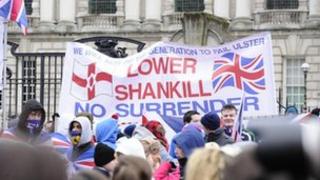 The Northern Ireland Parades Commission has said it has no role to play in the vast majority of union flag protests.
In a statement, its chairman said most of the demonstrations were not parades.
Peter Osborne said the commission had taken decisions in relation to protest marches that had been notified to police in advance, as required by law.
Chief Constable Matt Baggott said un-notified processions "must now come to an end" and said the Public Processions Act needed to be reviewed.
Earlier, Mr Osborne said it was illegal to organise or participate in a parade without prior notification and said stopping such a march was one option open to police.
He also said that it was "not inevitable" that predictions of a turbulent summer parading season, due to the flags issue, would be realised.
He called on community leaders to play their part in ensuring it was a peaceful marching season.
Loyalist protesters have been staging street demonstrations since 3 December, when Belfast City Council voted to restrict the number of days the union flag is flown at Belfast City Hall.
Most of the flag protests have passed off without incident, but there has been trouble and even sustained rioting at some.
A regular feature of the flag campaign has been a protest outside Belfast City Hall every Saturday afternoon with demonstrators marching from east Belfast and other parts of the city to take part.
Permission for the parading aspect of this protest has not been applied for.
In his statement, Mr Osborne said: "There have been calls for the Parades Commission to engage in the flag protests issue.
"The vast majority of protests are not parades and, therefore, the commission does not have a role.
"Where people have decided to hold parades to highlight their concerns, many have notified lawfully and we have taken decisions. One event, albeit with higher profile, has decided not to notify and has, therefore, chosen to act outside the law."
The chairman added: "The law is very clear. It is an offence to organise or participate in a parade that has not been notified through the appropriate form to the police.
"In upholding the law, the police have a number of options open to them including stopping the parade and gathering evidence for potential prosecution."
Looking ahead to the summer months - the peak of Northern Ireland's marching season - Mr Osborne said people "must choose what type of summer they want to see this year".
"This summer we want people to make different choices, a choice of engagement, a choice of respect for others, a choice of law and order."
He called on political leaders, church leaders and people with influence in local communities to recognise that the Parades Commission and PSNI have "very challenging tasks to help manage deep-rooted community relations issues".
"If people make positive choices, perhaps there will be less need for the commission to make decisions this summer," Mr Osborne added.
Chief Constable Mr Baggott said it was "entirely right that we asked the Parades Commission to consider its role in relation to un-notified processions", adding he was grateful for the clarity.
"However, at no stage have we used this as a reason for operational decisions," he said.
"I remain concerned that the current Public Processions Act does not provide sufficient deterrence to those breaking the law, the required standard of proof to convict is high and the act would benefit from review."
The marching season reaches it peak on 12 July, when thousands of loyal order members parade through towns and cities to mark the anniversary of the Battle of the Boyne.
They celebrate the victory of William III over the Catholic James II in July 1690.
Most Orange parades pass off without incident, but some go through nationalist areas and the issue has sparked violence in recent summers, particularly in north Belfast.
The Parades Commission was established to rule on what should happen with such parades and facilitate mediation to resolved disputed marches.