David Crooks sentenced to three months jail over union flag riot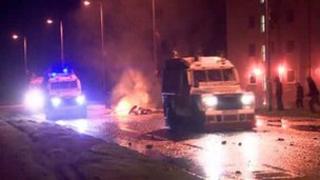 A teenager who took part in a riot during a union flag protest has been sentenced to three months jail.
Belfast Magistrates Court was told that David Crooks "got caught up" in the riot after he read about the protest on the social networking site, Facebook.
The 19-year-old, from Rosslea Way, Newtownabbey, admitted throwing stones at police on 8 December last year.
The protests followed a vote to limit the flag display at Belfast City Hall.
On 3 December, council members voted to restrict the number of days the union flag is flown at their building in central Belfast, but the move sparked widespread loyalist protests throughout Northern Ireland.
Five days later, violence flared in the Rathcoole area of Newtownabbey.
The court heard how police deployed water cannon in an attempt to quell a large crowd that was firing rocks and other projectiles at them.
Crooks pleaded guilty to a single charge of riotous behaviour.
His solicitor argued that he had not intended to become involved.
She told the court: "He instructs me that he was in bed, he was on Facebook and saw things were happening.
"Initially he was going to spectate but got caught up in it. He accepts that was one of the most foolish things he's ever done."
District Judge Fiona Bagnall accepted that Crooks had a clear record and pleaded guilty at an early stage in the proceedings.
However, she ruled that the seriousness of the offence warranted an immediate jail sentence.
Judge Bagnall said: "It was a fairly extensive incident as I understand it, and largely orchestrated.
"Rocks and dangerous projectiles were thrown, causing major disruption and risk to the public.
"It's a matter with a significant crowd rioting, and it was a lengthy incident. I will therefore impose three months custody."
Crooks was released on bail pending appeal.