Family targeted in north Belfast blast bomb attack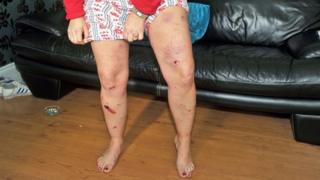 A woman was injured and two family dogs were hurt in a blast bomb attack at a house in north Belfast.
The 44-year-old woman went to answer the door at her home in Thorburn Road, Whitewell, at about 21:45 GMT on Sunday evening when the device exploded.
She suffered cuts to her leg. One of the family's dogs lost a paw in the attack.
The woman's husband and a teenage daughter were inside the house. They were unhurt but deeply shocked.
Speaking on BBC Radio Ulster's The Nolan Show, the brother of the injured woman said someone could have died in the attack.
"Apparently they rapped the door and set it (the blast bomb) down. My sister said: 'Who's there?' and it went off.
"The dog got it and his leg blew off, he is down in the vet's. My wee niece had just gone to bed.
"Anybody could have been seriously hurt last night. My sister is still in shock. She is white as a ghost and she is shaking," he said.
"People said it was probably the LVF (Loyalist Volunteer Force) or something, but there is no call. It could have been death at your own home for I don't know why. We have a big family the whole of it is in shock.
"I hate the thoughts of what could have been. I have no idea what this was about."
Councillor Guy Spence, DUP, said the attack was "serious and sinister".
"There was significant damage done in and around the doorway from the blast when the device was thrown.
"The family is in deep shock. It was just fortunate no-one was badly injured," he said.
"This could have resulted in potentially a loss of life."
Police have appealed for information. They want to know about a dark coloured car which was seen driving away from the attack towards the Serpentine Road.