Nama takes over Kendal centre owned by NI millionaires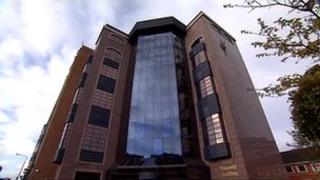 The Irish government's National Asset Management Agency (Nama) has effectively repossessed an English shopping centre that was owned by two of Northern Ireland's wealthiest property developers.
Kendal Riverside Ltd, which owned the K Village in Cumbria, was placed into administration just after Christmas.
The company was controlled by Shamus and Francis Jennings; their main firm, Valto, is behind projects such as St Anne's Square in Belfast and Junction One in Antrim.
Kendal Riverside owes Nama more than £55m but the K Village is now worth at most £34m.
K Village, an outlet centre, opened in 2010, but failed to fill many of its units. The development also includes apartments and offices.
The administrator's report states that Jennings cites the economic climate, a fall in property prices and lack of bank funding as the reasons for the company's failure.
Kendal Riverside also owes a further £12.8m to unsecured creditors though the bulk of this, almost £9m, is owed to three Jennings companies: Valto, Ballyblack Trading and Ballygilbert Trading.
The K Village is still trading and none of the other Jennings firms are affected by Nama's move.
The Jennings brothers are regularly rated as among the wealthiest people in Northern Ireland.
In 2008, they sold their building services firm, Rotary, to an Australian engineering company in a cash and shares deal worth £95m.
The same year they sold the Cromwell Hospital in London in a £90m deal.
Among their properties is a fishing and shooting estate on the Scottish island of Islay.