Downton Abbey: Award for costume designer Caroline McCall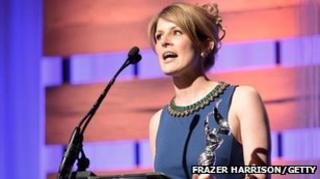 Costume designer Caroline McCall from Portadown, County Armagh, has won an award at the 15th Annual Costume Designers Guild Awards in Beverly Hills, California.
Ms McCall won the Outstanding Period/Fantasy costume for a television series award for her work on Downton Abbey.
She was the head costume designer on the last series of the show.
She has already won a Creative Arts Emmy for her work on Downton Abbey.
Ms McCall started off her career at art college in Belfast before moving to the Wimbledon School of Art. She then trained with the BBC.
Caroline was accompanied to the award show in The Beverly Hills Hilton by Hollywood actress Shirley MacLaine who is currently playing Martha Levinson in the period drama.
Stars such as Anne Hathaway and Russell Crowe also attended the awards.
Hugh Bonneville, who also appears in the show, tweeted that he was "chuffed to bits" that Caroline had won.