Abuse survivor calls on Cardinal Brady not to attend conclave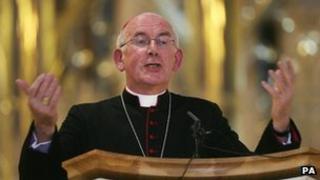 A survivor of child abuse has said the Catholic primate of all-Ireland should not attend the conclave that will elect the next Pope.
Pope Benedict XVI is to resign at the end of this month.
Christine Buckley, of the Aislinn Centre for abuse survivors in Dublin, has said Cardinal Sean Brady should not go to the conclave.
A spokesman for the cardinal said he planned to attend the conclave and to vote.
He said the cardinal wanted to take the opportunity to express once again his deep sorrow to all who were abused as children, their families and all people who felt let down by the church's "failure of moral leadership and accountability".
Christine Buckley said she could not believe that Cardinal Brady was planning to attend the conclave.
"I am giving my own personal view on this," she said.
"I have no doubt that more and more survivors of abuse will speak out in the coming days.
"When the Pope made his statement that he was stepping down, I did think surely Sean Brady will not go to Rome, I was naive.
"He has such arrogance that he thinks it is ok to hop off to Rome.
"He is thinking of himself rather than the victims he could have saved had he spoken about Brendan Smyth.
"He would do best by expressing his apology by not going to Rome."
In 2010, Ms Buckley called on the cardinal to resign after he apologised for his role in mishandling the case of serial child abuser Fr Brendan Smyth.
This was after it emerged that as a priest in 1975, Cardinal Brady was at meetings where children signed vows of silence over complaints about the paedophile priest.