Farmer charged with threatening A5 road workers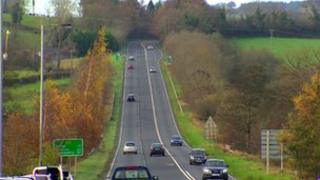 A County Tyrone farmer has been charged with threatening to kill contractors carrying out work linked to the construction of a new dual carriageway.
The Ulster Herald reports that the man asked the contractors to leave his land and when they refused he is alleged to have told them he would return with a weapon.
The incident is said to have taken place in the Omagh area on 6 February.
The police were called to the scene where the man was arrested.
The PSNI said a 45-year-old man has been charged with making threats to kill and is due to appear at Omagh Magistrates Court on 5 March.
Uncertainty
The police spokesperson said as part of normal procedures the charges would be reviewed by the PPS.
The DRD Roads Service and the contractor declined to comment.
The proposed A5 dual carriageway is currently the subject of a legal dispute at Belfast High Court.
Farmers, businessmen and landowners have joined together under the Alternative A5 Alliance grouping in a legal challenge to the planned stretch of dual carriageway between Londonderry and Aughnacloy, County Tyrone.
Uncertainty now surrounds the overall project after the Irish government reduced the amount of money it was contributing to the scheme, due to its tough economic circumstances.
Judicial review proceedings centre on the decision to press ahead with two sections of the route, for which the Stormont Executive has approved £280m.
Work on the dual carriageway has been put on hold due to the legal intervention.