Horse meat withdrawn from Northern Ireland college campuses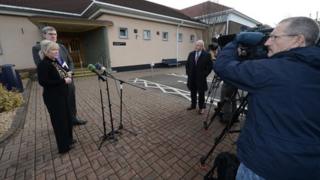 Burgers containing horsemeat have been discovered at two agricultural campuses in Northern Ireland, the agriculture minister has confirmed.
Michelle O'Neill said the burgers had been supplied to Eurest outlets that supply Greenmount and Loughry campuses.
The news came on Thursday in reply to a written assembly question from UUP agriculture spokeswoman Jo-Anne Dobson.
Ms O'Neill said Eurest's parent body, Compass, had withdrawn the burgers.
'Precautionary measure'
In her reply, the agriculture minister said burgers containing horsemeat had been supplied to the Eurest outlets at Greenmount and Loughry campuses of CAFRE (College for Agriculture, Food and Rural Enterprise).
"CAFRE has a service contract with Eurest, a subsidiary of Compass, which commenced in August 2011, to provide catering across the three CAFRE campuses," she said.
"Compass took the precautionary measure of withdrawing from the menu all burgers supplied by a manufacturer within its supply chain whose products were referred to in the media and sent samples for testing."
She said test results received on Thursday of last week revealed traces of equine DNA "which Compass notified immediately to CAFRE management".
The minister said all staff and students were informed of the situation as soon as CAFRE received written confirmation from Compass on Friday.
The campus at Enniskillen has not been affected, a spokesman has said.