Out of this world... astronaut tweets in Irish from outer space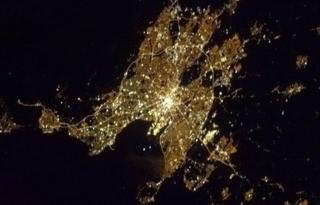 His message echoed dark and distant from space, the final frontier. You could say it was out of this world.
It was certainly an Irish first. Canadian astronaut Chris Hadfield has become the first person to tweet in Irish from hundreds of miles above the earth's surface.
It was a "tvuit", Irish for a tweet.
Commander Hadfield sent a night shot of Dublin taken from the International Space Station on Monday night.
His message stripped bare the poet's heart beating inside the fat white spacesuit.
"@Cmdr_Hadfield: Tá Éire fíorálainn! Land of green hills dark beer. With Dublin glowing in the Irish night," he tweeted.
Roughly translated, it means Ireland is so very beautiful.
The 53-year-old engineer is from Ontario. He is the first Canadian to walk in space and the first person to tweet in Irish from the final frontier.
He first attracted the attention of Irish tweeters in January when he tweeted a daylight photo of Dublin, admitting he was unsure about what city he had snapped.
The Irish community set him right and he later revealed that his daughter was living in Ireland. She is a private person but she lives in Dublin and loves Ireland.
Perhaps she was responsible for teaching him a cupla focal (a few words)?
Whatever, this astronaut has set Twitter alight and shown that even engineers can be poets at heart.
The Irish replied in Irish to his tweet.
And he was cheered by the response: "Wow, I can feel the warmth of the Irish all the way up here - go raibh maith agaibh! (Thank you). I'll do my best to photo more cities as clouds clear."
Just as Ireland is, in his words, "land of green hills and dark beer", so he tweets of "clear skies at last, from Cardiff to Belfast to Edinburgh to London to the northern lights and beyond."
His Valentine messages include the poignant: "Seven billion hearts, but I can only see one."
And he signed off on Monday in suitably wistful mood: "The full moon rises over the only planet we have ever called home."
Chris's son Evan, said the media attention had been "pretty outstanding".
"Dad started tweeting because he wanted people to see what life was like for an astronaut, not just the news and what NASA put out via their own media, but from the personal perspective," he said.
Evan said his father had been "humbled and pleased" by the public response.
"The family is very happy to see him getting recognition for a life's work and dedication to his dreams. We are all very happy that the public is taking an interest in what he is doing, and taking it upon themselves to learn more about manned spaceflight through his efforts."
As for Commander Hadfield's knowledge of Irish - he had help from his family to make sure he got it all correct.
"My sister and the internet combined to make sure we weren't saying something wrong or offensive," said Evan.