Jail for man who went to royal wedding party after murder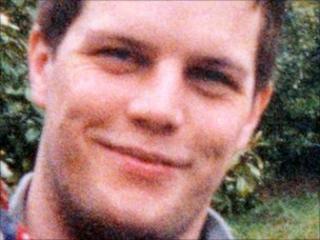 An east Belfast man who murdered his friend and then attended a party to celebrate the royal wedding has been jailed for at least 13 years.
Robert Scott, 36, from Clarawood Park, changed his plea to guilty just before he was due to go on trial last month for killing his neighbour, Richard Hicking.
The body of Mr Hicking, 31, was found in his flat in Clarawood Park, on 30 April, 2011.
He had been stabbed 21 times.
Mr Scott had stabbed the victim 14 times in the chest, six times in the side, and once in the middle of his back.
'Get away'
Scott later went to a street party to celebrate the wedding of the Duke and Duchess of Cambridge, William and Kate.
Alcoholic Scott later told authorities he held back from confessing to the murder because: "There's always this part of you thinks you can get away it".
Scott received a life sentence for the murder. On Friday, Mr Justice McCloskey set the minimum term he would have to serve before being considered for parole at 13 years.
He told Scott, that had he admitted his guilt earlier, his sentence would have been less.
The judge said he hoped both families would "achieve some form of reconciliation in the wake of this waste of an innocent person's life".
Mrs Jacqueline Hicking said while the sentence "was a bit short", she felt "justice has been done".
She said that although "time will heal", she would "never forgive Scott for murdering her son".