Basil McCrea 'likely to form new party' to challenge DUP and UUP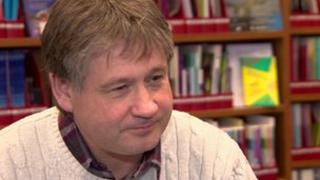 Lagan Valley MLA Basil McCrea has said it is likely that he and John McCallister will set up a new party to challenge the DUP and the UUP.
Both men have quit the Ulster Unionist Party over the decision of the party to support a unionist unity candidate in the Mid-Ulster by-election.
Nigel Lutton - the son of a former RUC reservist shot dead by the IRA in 1979 - will be the candidate.
Mr McCrea said he had "no confidence" in Mike Nesbitt as leader of the UUP.
He said it was unlikely that he would be joining the Alliance party but said that he might form a new party.
"John and I intend to form a real and viable opposition, hopefully with others," he said.
Mr McCallister, former UUP deputy leader, revealed on BBC NI's politics show, The View, on Thursday evening, that he would quit.
'Wrong decision'
Mr McCrea announced his intention to resign on BBC Radio Ulster's Nolan show on Friday.
"I have stated that I will not stay in an Ulster Unionist Party that is heading towards a merger with the DUP and the decision that the party took yesterday against the wishes of people like myself and John McCallister leaves me with no option but to say that I, too, will be resigning from the Ulster Unionist Party," he said.
"This is the wrong decision for the Ulster Unionist party, it is the wrong decision for the people of Northern Ireland and I will not stand by it. I will not stay in a party that cannot stand on its own two feet."
He also criticised UUP leader Mike Nesbitt.
"I have no confidence in what Mike Nesbitt says. He came into this job with only nine months experience as an MLA, in fact he made a virtue of the fact that he had no big ideas. I haven't seen any ideas other than we need to get into bed with the DUP," he said.
"There is an agenda in the party to get some kind of merger with the DUP for reasons that I don't understand and I have made quite clear that I will not be party to it.
"The Ulster Unionist party has lost its way. It's no longer supporting the Belfast Good Friday Agreement."
Referring to the choice of candidate for the Mid-Ulster by-election Mr McCrea said it would become a "bitter sectarian battle".
"It is squaring up to be a bitter sectarian battle, going over things that happened many many years ago and whatever the rights and wrongs of those issues and obviously there were some tragic circumstances, do we really want to have the battles of the 1970s revisited," he said.
Ulster Unionist Leader Mike Nesbitt said it was a "matter of huge regret" that "some individuals chose to attack the party on the airwaves".
"With regard to comments made by John McCallister, if he is resigning on principle, why did he not resign over the selection of an agreed candidate in Rodney Connor in Fermanagh and South Tyrone?
"If he was unhappy with policies, why when I gave him the opportunity 11 months ago to shape policy via a constitutional commission did he not bother?," he said.
Mr Nesbitt also challenged the claims made by Mr McCrea.
"I reject Basil's claim that in my leadership campaign I advocated 'no big idea'. What I said was there was no quick fix and there was no 'big idea' beyond a long hard slog on the ground. Hard work was the big idea."
Mr Nesbitt said his vision for a "revitalised, pluralist, non-sectarian progressive political party remains undimmed."
Mr McCrea and Mr McCallister's profiles have been removed from the UUP website.
The Mid Ulster by-election due to take place in March was called to replace Martin McGuinness.
Sinn Fein's candidate will be Francie Molloy and the SDLP candidate will be Patsy McGlone.
Mr McGlone said: "This election has every potential to take us back to the old sectarian ways of the past and shared future and a bright future for our young people doesn't come into it."
On Friday, the Alliance Party confirmed that their candidate will be Eric Bullick.