Three generations: fall-out from a forgotten Irish kidnapping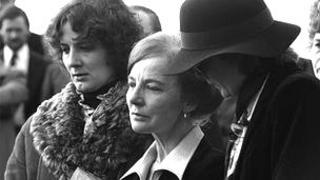 It was a simple knock on the door at a house in a Belfast suburb in 1973 - but it would set up shockwaves across three generations of a family.
In 1973, two nights after Christmas, the teenage daughters of Thomas Niedermayer - a 45-year-old German diplomat and boss of the Grundig electronics plant in Belfast - answered a knock on the door.
Two strangers asked Gabriella and Renate to fetch their father, telling the girls they had accidentally damaged his car.
They did and watched aghast as he was bundled into a car and taken away.
In the days and weeks following the kidnapping, Thomas Niedermayer's wife Ingeborg and two teenage daughters waited for news. His body was eventually discovered seven years later (1980) face down at the bottom of an illegal rubbish dump.
It was an IRA kidnapping designed to force the release of the Price sisters, Marian and Dolours, who had been jailed for their part in the IRA London bombing campaign of 1973.
It is understood that Mr Niedermayer was killed apparently trying to escape. His body was found seven years later in a shallow grave under a rubbish dump at Colin Glen in west Belfast.
Ten years after her husband's funeral, his widow Ingeborg went down to County Wicklow in Ireland and took her own life by walking into the sea.
Within the next 10 years, her two daughters also killed themselves, leaving Thomas Niedermayer's grandchildren to tell the story of the cataclysmic fall-out from the botched kidnapping.
In 2012 RTE Radio 1 presenter Joe Duffy mentioned the kidnapping and the subsequent death by suicide in Greystones of Thomas Niedemayer's widow on his radio show, Liveline.
He then received a letter inviting him to find out what happened to the remaining two members of the Niedermayer family.
The RTE documentary team started to look for the grandchildren.
Forty years on from Thomas' kidnapping, the only remaining members of the Niedermayer family - Gabrielle's two daughters Tanya and Rachel - speak publicly.
In RTE's Documentary on One - A Knock on the Door, these two women tell their family's story; the story of a kidnapping, and the story of what happened to their grandfather, grandmother, mother, father and aunt in the years following that night in 1973.
It is told on RTE Radio 1 on Saturday 16 February at 18:00 GMT.