John McCallister and Basil McCrea resign from the UUP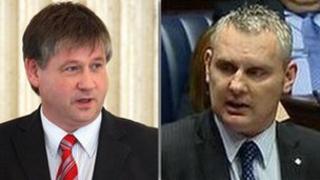 Lagan Valley MLA Basil McCrea has said he will resign from the Ulster Unionist Party.
On Thursday evening, the former UUP deputy leader John McCallister said he was quitting the party.
The two resignations follow the DUP and Ulster Unionists' decision to back an agreed candidate to contest the Mid Ulster by-election on 7 March.
Nigel Lutton - the son of a former RUC reservist shot dead by the IRA in 1979 - will be the unionist unity candidate.
However, the strategy of closer co-operation with the DUP has divided the Ulster Unionist party.
Mr McCrea announced his intention to resign on BBC Radio Ulster's Nolan show.
He said that the Mid Ulster by-election was "squaring up to be a sectarian battle" and that a joint candidate damaged the "whole of Northern Ireland".
"I don't know what the UUP stands for, what is the difference between them and the DUP?" he said.
Mr McCallister revealed on BBC NI's politics show, The View, on Thursday evening, that he would quit.
"It is nothing personal about Nigel. It is not personal for me. It is about the principle," he said.
"I disagree strongly about the principle of unionist unity and I don't want to be a part of that."
Mr McCallister will remain as an independent unionist.
Mr Lutton was described by the Ulster Unionist and DUP leaders as an ideal candidate. He is expected to bring victims' issues to the fore.
In 2007, it was alleged in Parliament under privilege by a DUP MP in 2007 that Sinn Féin's Francie Molloy, the party's candidate in the by-election, was suspected by police of being involved in the murder of Mr Lutton's father, Frederick, an allegation strongly denied by Mr Molloy.
In his resignation letter to Mr Nesbitt, Mr McCallister said he had first voted for the UUP in 1992, because of the party's values and had "no interest in supporting other narrow expressions of unionism, committed as they were to confrontation and triumphalism".
The South Down assembly member said that since Mr Nesbitt's election as leader he had shared with him his "grave concerns over the direction" in which he had "been taking the party".
"Your failure to articulate and communicate a distinctive UUP stance - based on Ulster Unionism's core values - on last year's parades controversies, on the covenant centenary, on the Union flag debate, on the misguided Unionist Forum and on the potential of electoral pacts with the DUP has unfortunately inflicted grave damage on the party," he added.
Mr McCallister accused his party leader of choosing to become "Peter Robinson's junior partner."
The Mid Ulster by-election due to take place in March was called to replace Martin McGuinness.
The SDLP candidate will be Patsy McGlone and the Alliance Party candidate will be Eric Bullick.