Scanners ruled out for NI prison searches after pilot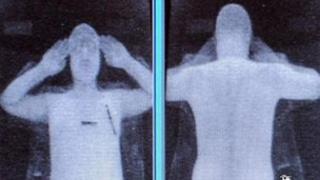 Electronic scanners like those used in airports will not replace full body searching in prisons in Northern Ireland.
They failed to detect nearly half of all test items during a three month pilot scheme.
Items not detected included drugs, mobile phone batteries, scissors and a knife.
Nearly 1200 prisoners and prison staff were searched using two millimetre wave scanners.
The searches took place at Magilligan prison and Hydebank Wood.
Dissident republicans in the high security prison at Maghaberry, near Lisburn, County Antrim, have been campaigning to have the scanners installed there as an alternative to strip-searching
But any move to introduce the technology is expected to be put on hold due to the results of the pilot scheme, which was introduced by justice minister David Ford.
A prison service evaluation report says the scanners detected just 57% of test items. The items not detected include a knife and scissors.
Prisoners searched using the scanners had to volunteer to be part of the process, so all of the illegal materials detected during the test were carried by prison officers who agreed to be part of the trial.
Dirty protest
A report setting out the findings will be discussed by members of the justice committee at Stormont on Thursday.
It says the tests revealed limitations to the technology and that full-body searching provided a higher level of assurance because more test items were detected.
The DUP chairman of the justice committee, Paul Givan, visited Hydebank Wood earlier this month to see one of the scanners being tested.
He said the equipment that he witnessed in operation did not detect "metal objects, mobile phones, or batteries the way in which a full body search would".
"It increases the risk and compromises the security of the prison, its introduction in my view would be wholly unacceptable," he added.
The committee's deputy chairman, Sinn Fein MLA Raymond McCartney, has said this should not be the end of the matter.
"Other people in other jurisdictions have found a way forward, everyone accepts the security of the prisons cannot be compromised, but I think in the 21st century we can find a technological replacement," he said.
In November, dissident republican prisoners in Maghaberry ended a dirty protest against the use of strip searching.
At the time, republican sources said they hoped the move would make it easier for scanners to be introduced if the trials were successful.
The department of justice will now press ahead with plans to test another more sophisticated X-ray scanner.
But those tests cannot start until a special licence is granted because the process uses radiation and the technology has never been used in a UK prison.