Suspended sentence in County Down speedboat death case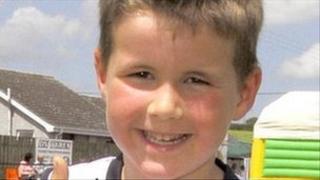 A Newry man has been given a suspended jail sentence for the manslaughter of a six-year-old Rathfriland boy.
Stuart Wilson was stuck by a speedboat off Cranfield Beach in south Down over two-and-a-half years ago.
Scaffolding contractor Damien McCann, from Sandyhill in Newry, was steering his speedboat just off the beach when he struck the child.
Stuart suffered severe head injuries in the collision and died later in the Royal Victoria Hospital in Belfast.
The Rathfriland schoolboy was on holiday at the time with his family at a nearby caravan park.
'Sad case'
The court was told that the bow of McCann's boat was too high because of the trim setting and he did not see the boy being towed on a wakeboard until the last minute.
Judge Finnegan said that in his 40 years of practising law, this "was as sad a case as he had ever come across".
He said McCann's culpability was his gross negligence in failing to keep a proper look-out for a short period of time.
He added that the nightmare of a family losing a child in this way was "something that would remain with the McCann to the grave".
McCann was sentenced to nine months in jail, suspended for three years.