Willie Frazer: Car destroyed in arson attack at his Markethill Home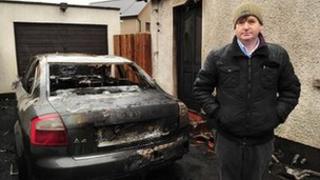 There has been an arson attack outside the home of the loyalist campaigner Willie Frazer in County Armagh.
A car at his property on the Tandragee Road, just outside Markethill, was set alight in the early hours of Sunday.
A passing police patrol saw the fire and brought Mr Frazer to safety. He has blamed republicans for the attack.
The campaiger claimed he was targeted because of his role in the union flag protests and over allegations he has made about fraud in south Armagh.
Mr Frazer, who is a high-profile member of the recently formed Ulster People's Forum, said he had received a death threat just hours before the attack.
The protest group was set up in the wake of a vote taken by Belfast City Council in December that restricted the number of days the flag is flown at the city hall.
He told the BBC he had made a recording of the death threat that he received at 23:40 GMT on Saturday.
"I get about a dozen death threats every day, they don't deter me. I'm not afraid of these people and the sooner they learn that, the better.
"But to come to my house, to attack my family, that's a different story," Mr Frazer said.
Garden hose
The 52-year-old campaigner was sleeping when the police patrol raised the alarm at about 01:15 GMT. They managed to wake him and brought him out of the house safely.
The burning car was parked in the driveway of his home and part of the bungalow sustained significant scorch damage, including a kitchen door and guttering.
The officers also alerted his neighbours and moved a neighbour's van to ensure it did not catch alight.
The PSNI patrol called the fire service and then used hand held extinguishers and a garden hose to dampen the blaze and prevent it from spreading.
The car was completely destroyed in the fire but no-one was hurt.
Sergeant Gwyn, of Armagh PSNI, said: "This was a very dangerous fire and due to the quick thinking actions of officers out on patrol no one was hurt.
"The consequences if we had not caught this fire in time, do not bear thinking about."
'Very sinister'
Police have conducted house-to-house enquiries as part of the investigation.
Ulster Unionist MLA for Newry & Armagh, Danny Kennedy, described it as a "very sinister development".
"Everyone has the right to express their views in a democratic society and this attack appears to be an attempt to interfere with that democratic right.
"I am very relieved that William and his family have escaped injury and acknowledge the vigilant work and quick thinking of local PSNI officers in spotting the fire and getting everyone to safety," Mr Kennedy said.
'No justification'
Sinn Fein MP for Newry & Armagh, Conor Murphy, also condemned the attack.
"Whoever was responsible for the arson attack outside Willie Frazer's home last night was not representative of the vast majority of people in this constituency," Mr Murphy said.
"Whatever people's views are of Mr Frazer's public statements or actions, there can be no justification for an attack like this on a family home."
Mr Frazer is a former director of the victims' group, Families Acting for Innocent Relatives (Fair).
He founded the south Armagh-based organisation more than 13 years ago, to support victims of republican violence.
However, he stepped down from his role last November.