Basil McCrea given formal warning by UUP disciplinary group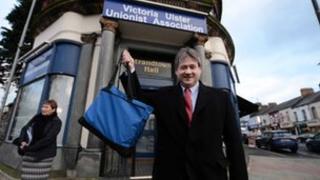 Lagan Valley assembly member Basil McCrea has received a formal warning from the Ulster Unionist Party's disciplinary panel.
The committee was investigating two complaints against the UUP MLA.
Mr McCrea lost the party whip in December after he publicly criticised the UUP's handling of the controversy surrounding the union flag protests.
The other related to comments he made on the BBC Nolan Show.
A disciplinary hearing was held by the Ulster Unionist Party last week.
In relation to his remarks on the Nolan Show, Mr McCrea was found guilty of indiscipline and of speaking in a manner that was detrimental to the party interest.
Regarding the second complaint, referring to Mr McCrea's comments in a local newspaper and on BBC Radio Ulster about a possible assembly commission consultation on the number of days that the union flag is flown, the committee considered Mr McCrea guilty of a public attack on party policy and consequently of a further act of indiscipline.
The committee said its decision regarding sanctions was informed by the fact party leader Mike Nesbitt had already withdrawn the assembly group whip from Mr McCrea.
Mr McCrea has the right of appeal to the party officers of the Ulster Unionist Party.