'I didn't see or handle horsemeat' says Monaghan meat broker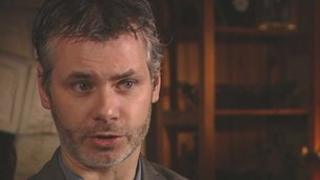 The owner of a County Monaghan food company caught up in the horsemeat controversy has said he has never seen or handled equine meat products.
Martin McAdam told RTE's Prime Time programme that he had no explanation as to why meat he had sourced from two separate Polish factories had tested positive as horsemeat.
The meat broker said his firm, McAdam Foods, traded only in beef and pork.
Mr McAdam said he was co-operating fully with Irish authorities.
On Tuesday 5 February, it was revealed that meat McAdam Foods had sourced from a UK-based supplier - that was being stored at Freeza Meats in Newry - had tested positive for horsemeat.
None of that batch meat got into the food chain.
Other meat that Mr McAdam had imported from a Polish factory tested positive for horsemeat in samples taken from Rangeland Foods, near Castleblayney.
Rangeland Foods suspended production after the meat was found on the premises. The food processing firm has now been given the all-clear to resume production following an audit by Department of Agriculture officials.
Speaking on RTE's Prime Time on Thursday evening, Mr McAdam said he had worked as a meat broker in the UK and Ireland for 25 years.
"I import product from the EU. I have never seen or handled equine product, my company only deals in beef and pork," he said.
"I have no explanation for why horse DNA could appear in a product. I don't understand it, I'm still reeling from it, I haven't come to terms with it. I am in the eye of the storm at the moment."
Mr McAdam said that the Irish Food Safety Authority visited him on Friday 1 February. But they cut the meeting short because he got news that his mother had died.
"It was only on Monday evening that my name started appearing in the media. On Tuesday morning, four Gardai and Dept of Agriculture people arrived at my door," he said.
"I printed off emails, invoices, trade documents and transport invoices and all show that my full dealing from start of transaction to end of transaction, they all stated it was beef."
The broker said he believed the source of the problem was in Poland.
"I went there as an innocent trading broker looking to import meat," he said.
"I am totally innocent in this saga. I know others are affected and I have great sympathy for them and I do hope their jobs will be restored and that we can get back to business."