Simon Tang murder: Charge against second accused withdrawn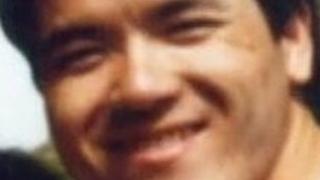 A murder charge against a second man accused of killing a businessman in 1996 has been withdrawn.
Belfast Magistrates' Court heard on Thursday the case against Paul Allen would not proceed.
Mr Allen, 39, of Drumhoy Drive, Carrickfergus, had been charged with killing Simon Tang, 28.
Mr Tang was beaten and robbed outside his takeaway business in Carrickfergus, County Antrim. All charges in relation to his murder have now been withdrawn.
His watch and the night's takings were stolen during the attack. The father of two was taken to hospital but died from his injuries. No-one has been convicted of his killing.
On Wednesday, a murder charge against Mr Allen's co-accused George Robinson, 36, of The Hollies, Carrickfergus, was withdrawn.
Charges against two women accused of supplying false alibis in connection with the Tang case, have also been dropped.
Jacqueline Scanlon, 34, of Woodburn Drive; and Leanne Wilson, 35, from The Cherry Walk - both in Carrickfergus - had been accused of attempting to perverting the course of justice.