NI suicide rate in NI up by 100 per cent says DUP MP Nigel Dodds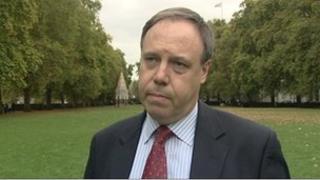 The House of Commons has been told that death by suicide in Northern Ireland has increased by 100 per cent in less than 15 years.
The figures were revealed by the North Belfast MP Nigel Dodds during a parliamentary debate at Westminster.
The DUP deputy leader told MPs that his constituency had one of the highest suicide rates of any part of the United Kingdom.
Mr Dodds said around 300 people take their lives in Northern Ireland yearly.
Addressing MPs in the Commons on Wednesday, Mr Dodds outlined the figures in north Belfast.
"It is 25.2 deaths per 100,000 in 2006-11 and in the last five-year period we have available, that has crept up to 25.9 per 100,000," he said.
The debate at Westminster was lead by the South Antrim DUP MP Willie McCrea.
He raised the issue of the role the internet can have in suicide.
He told MPs that more needs to be done to protect young people from websites which give instructions on how to take your own life.
Personal experience
He told the Commons: "In recent years there have been several widely-reported cases of individuals taking their own lives having used websites that have provided explicit information on suicide methods or have been used to facilitate suicide pacts."
Foyle MP Mark Durkan spoke about the impact of suicide on his own family when a friend of his mother died.
"I have experienced suicide in my family more than once. I have also experienced suicide from people that have been regarded as close or good friends, or family friends," he said.
He said he was "stuck with the questions and the answers that will never come".
Care and support minister Norman Lamb said the suicide prevention strategy recognised that the media had a significant influence on what children do and think.
"It is deeply worrying that young people can easily be exposed to such pernicious material on the internet, but we shouldn't dismiss the internet as only a source of harmful material, it also provides an opportunity to reach out to vulnerable people who might otherwise refuse support," he said.
Labour's Madeleine Moon referred to Office for National Statistics data which she said showed there was an increase in suicides in the UK.
In 2011 she said there had been 6,045 suicides, an increase of 7.8% on the previous year.