Parades Commission denies DUP 'anti-Protestant' claim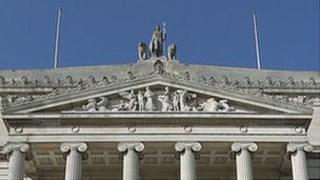 A member of the Parades Commission has objected to a DUP claim that it is anti-Protestant.
The claim was made by DUP MLA Paul Givan during an assembly committee meeting on Wednesday.
Commissioner Frances Nolan said she took "real offence at being told I am anti-Protestant".
"I was brought up in a very strict unionist background and my father was an Orangeman all his living days," she said.
She insisted her decisions were in the public interest.
Members of the Parades Commission agreed to be quizzed by the committee dealing with the Office of First and Deputy First Minister.
During the briefing, a number of DUP MLAs were critical of the commission, particularly Mr Givan.
They told members of the Parades Commission the body is seen as "anti-Protestant" and is "loathed" by members of the unionist community.
Chief commissioner Peter Osborne, who was appearing before the committee, said the commission aimed to encourage community dialogue, but added that where required it would continue to make "fair and balanced decisions".
He said the number of "sensitive" parades had dropped below 200 in 2012.
Pau Givan of the DUP said the commission needed to be put out of business.
"The Parades Commission does not have my support, does not have my party's support," he added.
Mr Givan said that in contacts he had with senior police officers "they are of the view that you have a commission which is of an anti-Protestant parading bias".
He drew attention to the fact that Mr Osborne had been an Alliance Party councillor, and said there was "no democratic accountability in the Parades Commission".
Stephen Moutray of the DUP told the commissioners he had not found the body to be "a warm house for unionist Protestant people".
Alliance's Chris Lyttle, who was chairing the meeting, asked Mr Osborne what the commission's role would be in the case of protests such as those held in connection with the union flag controversy.
Mr Osborne said that static protests were not part of the commission's remit as it dealt only with notified parades.