Simon Tang murder: Charge against one accused withdrawn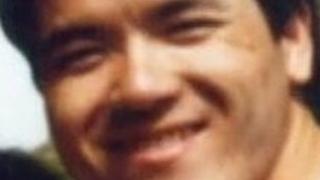 A murder charge against one of the men accused of killing a Chinese businessman in 1996 has been withdrawn.
Prosecutors told Belfast Magistrates Court that the case against George Robinson, 36, was no longer proceeding.
Charges of supplying false alibis against Jacqueline Scanlon and Leanne Wilson were also dropped.
Mr Tang, a married father of two, was beaten and robbed outside his takeaway business in Carrickfergus, County Antrim in June 1996.
George Robinson, from the The Hollies, Carrickfergus, had been accused of the murder alongside Paul Allen, 38, of Drumhoy Drive in the town.
Continue inquiries
Jacqueline Scanlon, 34, of Woodburn Drive, and Leanne Wilson, 35, from The Cherry Walk, both in Carrickfergus, had been accused of attempting to perverting the course of justice.
Detectives investigating the fatal attack on Simon Tang are expected to continue their inquiries.
Mr Tang's watch and the night's takings were stolen during the attack.
He was taken to hospital but died from his injuries.
No one has been convicted of his killing.
In court on Wednesday, a Public Prosecution Service representative confirmed that the charge against Mr Robinson was being withdrawn.
Following the development, his solicitor, Andrew Russell, said: "My client has denied any involvement in this murder from the outset and feels now that his position has been entirely vindicated by this decision."