Dealtronic holds 'Apprentice-style' recruitment day in Belfast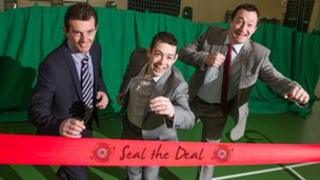 A newly formed software company is employing an unusual job application process in a bid to recruit a 20-strong sales team in Northern Ireland.
Rather than a formal interview, candidates will be asked to apply for the jobs with a personal sales pitch, in the style of the Apprentice TV show.
The firm, Dealtronic, was launched last year by Newry businessman Peter McCaul. It supplies software to businesses to help them run sales promotions.
The jobs are one-year, full time posts.
Mr McCaul said: "This is a unique way of hiring staff but this is a chance for those people who may have a lack of experience in their CV, struggled in interviews, or for one reason or another, find themselves unemployed at the minute.
"I want to see people with enough passion, drive and commitment that none of these negatives matters," the managing director added.
Judging panel
The firm's founder said Dealtronic had achieved "great success" since its launch in October 2012 and said they were planning to expand into the rest of the UK and Ireland soon and "further afield in the future".
'Seal the deal' - the company's day-long sales pitch event - is due to take place on 20 February in the Department for Employment and Learning (DEL) headquarters in Belfast.
Applicants will be asked to submit their CV to Dealtronic and successful candidates will be invited to pitch their own credentials as a potential sales representative in front of a panel of three judges, that will include Mr McCaul.
The panel will choose finalists, who will then be given a one-month paid trial, selling the company's product in a real business environment.
After the trial, 20 will be offered a minimum one-year contract.
Clare Mooney, employer contact manager in the Department for Employment and Learning said: "The department's employment service through the employer contact manager network is assisting Dealtronic in the recruitment of staff.
"Based in various jobs and benefits offices and job centres throughout Northern Ireland, we are keen to engage with the business community to raise awareness of the department's employment service which can provide recruitment solutions and identify relevant departmental programmes to employers including Steps to Work and the Youth Employment Scheme (YES)."
'Growth potential'
The firm has already received support from Invest Northern Ireland.
Mark Bleakney from Invest NI said: "Dealtronic is a young business with high growth potential and we aim to help companies such as this to succeed in markets outside Northern Ireland.
"Invest NI's marketing assistance is enabling Dealtronic to capitalise on business opportunities across Great Britain and the Republic of Ireland, and its recruitment drive will offer welcome job opportunities for those keen to work in the sales environment."