York university researchers to spend a year studying Irish pubs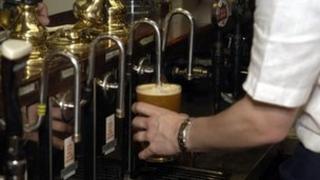 A group of British university researchers is to spend an academic year conducting a study of the Irish pub.
The team, from the University of York's management school, is being led by Dr Ignazio Cabras - who admits that some of his friends have told him he has the best job in the world.
The Vintners Federation of Ireland (VFI) is picking up the tab for the study, but Dr Cabras insists it is a very serious academic project.
He said it is aimed at examining the vital economic role public houses play in rural communities, and was born out of concern for the future of the sector in the current downturn.
"Local communities should understand using a pub is a matter of 'use it or lose it'," Dr Cabras said.
Town-versus-country
The Italian native lectures on economics, business and management at York university, but when he is not studying bars for a living, he enjoys an occasional glass of real ale in a traditional English pub.
And when the conversation turns to shop talk, he says the usual reaction to his work falls firmly into two categories, with a distinct town-versus-country divide.
"People in urban areas, in cities and towns - especially my friends - every time I talk about what I do for research they actually do smile. They smile about it and say 'oh you will go and drink a lot and get paid for doing it, what a wonderful job - it's the best job you can ever have'.
"But actually when I go and visit places and tell what I do, I can see concern about it from the people living in rural areas, because (they say to me) 'this is very important - our pub closed six months ago and there is a lot of sorrow in the community now, we don't know what to do, we are just meeting in private houses but it is not the same' so there are different reactions of course," Dr Cabras said.
Jobs at risk
The VFI is a national trade organisation set up to promote and protect the interests of it members, around 4,500 vintners and publicans in the Republic of Ireland.
Last November, its chief executive Padraig Cribben, said 90% of Irish pubs were family-owned and employed about 50,000 people.
However, he added that 5,000 pub jobs had been lost in the Republic of Ireland over the past three years and more were at risk.
The York research team has almost completed a study of rural pubs in England and the Irish project will be conducted with similar aims and methodology.
Dr Cabras said they had 4,000 Irish pubs on their database, and were working through them to identify those in remote areas with low density populations.
The next step is to send questionnaires to rural bar managers, in order to collect data on their turnover, employment statistics, and trade with local products and suppliers. It will be used to build up a picture of how the rural bar trade is contributing to the local economy.
'Rescued from closure'
The researcher said pubs were an "incubator for a huge number of activities", such as business initiatives and charity, voluntary and sporting events.
Dr Cabras added that local bars were "an important generator of social capital and community cohesion, which are important characteristics that you find in healthy communities".
"I believe, and the researchers at the University of York strongly believe, this place should be preserved, should be rescued from closure."
The results of the managers' survey will inform the next stage of the study, that is to engage with pub users.
So is this when Dr Cabras gets a round in?
Field research
"That would be very nice but unfortunately I think my visits to pubs will be very reduced," he said.
"Later this year, in July, August, we might decide to run some kind of research in person in Ireland, so there is the opportunity for us to go there and try to conduct our research in the field."
Dr Cabras added: "I wouldn't be surprised if our researcher and myself would visit some pubs or some rural communities - not necessarily be in the pub - trying to discuss and understand their impression, their thinking, their feeling for their local pubs."
He said initial results from the English pub study had indicated a "positive correlation between the presence of pubs in rural communities and the amount of socio-economic activities and social and community cohesion".
Beeronomics
"The higher the number of pubs in rural parishes in England, the healthier the communities living in those parishes seem to be."
The lecturer said the amount of VFI funding they are to receive would remain confidential but he added it was "enough to achieve all the goals in the proposal".
The preliminary findings of both studies will be presented to the 2013 Beeronomics festival, which the University of York is due to host in September.