Union flag protests: Poll finds most want them to stop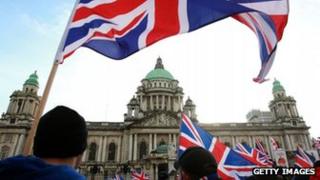 More than three quarters of people interviewed for a BBC Spotlight opinion poll think the union flag protests should stop.
But nearly half of unionists believe they should continue.
Belfast City Council voted to restrict the flying of the flag on 3 December. More than 1,000 people were questioned by pollsters Ipsos MORI last month.
The full results of the survey, including how people might vote in a border poll, will be broadcast on BBC1.
Just over half of those interviewed for this Spotlight poll believed the flag protesters had the right to take to the streets immediately after the vote.
But that support seems to have dipped sharply by late January.
Only a fifth of those interviewed reckoned the protests should continue, whilst 77% of people thought they should stop.
Those who changed their minds gave a variety of reasons - the main one being the violence sparked by the protests, followed by the damaging impact on business and the disruption to traffic.
Despite the fall in general support for the protests the poll suggests a large number of unionists remain sympathetic - 45% of unionists interviewed told the pollsters they believed the union flag protests should continue.
*Only answered by adults who believe the protests should stop
**Total includes individuals who did not declare any party support
Spotlight, hosted by Noel Thompson, will be broadcast live on Tuesday at 22:35 GMT on BBC1 Northern Ireland.