Union flag dispute: court told police officer was 'knocked unconscious'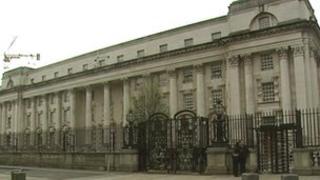 A policeman was knocked unconscious during a union flag protest in east Belfast at the weekend, the High Court has been told.
The officer sustained a serious head injury when he was hit with a missile on Saturday afternoon.
Details of the attack were revealed during a bail hearing on Monday that was unrelated to the weekend trouble.
Prosecutors disclosed the details in response to defence claims of reduced violence linked to the flag protests.
A campaign of loyalist street demonstrations has been taking place since 3 December, when Belfast City Council voted to reduce the number of days the union flag is flown at the city hall.
Unrelated application
The claims of reduced violence were made by a defence barrister, Dennis Boyd, who was applying for bail on behalf of his 21-year-old client, Kurtis Kenna.
Mr Kenna, of Ardenvohr Street, Belfast, was arrested during one of the outbreaks of trouble in the east of the city last month, unrelated to Saturday's attack.
He is accused of throwing a petrol bomb and being armed with a catapult during a previous riot.
His lawyers sought bail by citing a change in circumstances.
Mr Boyd referred to media reports about the loyalist demonstrations being changed to white-line protests.
However, prosecution lawyer Stephanie Boyd opposed Mr Kenna's new bid to be released.
She told the court that at least 400 protestors gathered on the Newtownards Road on Saturday afternoon.
"Police deployed two water cannons, 32 tactical support group officers and in all there were over 200 people deployed," Ms Boyd said.
"One officer was seriously injured, he was unconscious and taken to hospital with injuries to his head believed to have been caused by a projectile thrown."
She added: "Police are aware more protests are planned for this evening."
'Nosiness'
The defence barrister said he was unaware of the latest outbreak of violence when the bail application was lodged.
"That takes the wind out of my change of circumstances," he acknowledged.
However, Mr Boyd pressed ahead with his application, saying that Mr Kenna could live at his grandfather's home, well away from the riot area.
He argued that his client had no interest in flag protests, and only went to the scene out of "nosiness".
Despite his submissions, bail was refused due to the risk of re-offending.
Mr Justice Horner said: "I want to make it clear that while the present violence continues to disfigure the streets, people who have been caught up in the rioting, I will not not be releasing them on bail."
The judge added that "if sense prevails and people no longer engage in mindless acts of violence" then bail applications would be looked at "sympathetically".