Deposit scheme to avoid disputes between tenants and landlords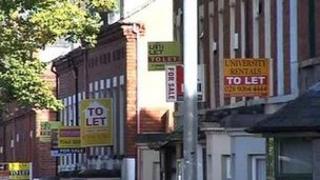 Northern Ireland is to have its first Tenancy Deposit Scheme, in a move to avoid disputes over deposits between tenants and landlords.
It will involve a third party holding onto the cash and mediating in disagreements, bringing NI into line with England and Wales.
The scheme, for private rentals, has been introduced by Social Development Minister Nelson McCausland.
It has been criticised by the Landlords Association as being too bureaucratic.
However, it has been welcomed by student leaders as "a victory for students and other tenants".
The assembly approved legislation for the independent third party scheme to protect tenant's deposits from 1 April.
'Assurances'
Mr McCausland has appointed four administrators to operate the new scheme.
He said: "This scheme will provide assurances for tenants and protection for landlords, helping to minimise long drawn-out legal proceedings and disputes.
"Tenants across Northern Ireland in the private rental sector can now be afforded the same protection as those in Great Britain.
"This is a positive development for the private rental sector".
He said schemes such as this had been very successful in the rest of the UK adding that he was keen that the private rental sector was seen as a "good option for tenants".
"Return of tenant deposits is an issue I hear of time and time again and I'm pleased that Northern Ireland citizens can now be reassured their money is safe," he said.
"The new scheme... will encourage a more professional approach to tenancy deposit practice, minimise disputes and go some way to improving the sector's reputation as a desirable option."
'Very onerous'
However, Declan Boyle of the Landlords Association said he was not happy with the new plan.
"It's very onerous and the penalties here are going to be more severe than in the UK, for whatever reason," he said.
As part of the scheme, housing benefits will be paid directly to landlords.
Adrianne Peltz, president of the National Union of Students and Union of Students in Ireland (NUS-USI) said her organisation had campaigned for the introduction of the scheme.
"We hear horror stories of students and other people who have rented a house and at end of the contract have left it in excellent condition but have had their deposit withheld by an unscrupulous landlord.
"The vast majority of landlords behave in an impeccable manner and care about the welfare of their tenants, so I am sure that they will welcome these developments. This scheme will safeguard their good reputations and help prevent bad landlords from tarnishing the image of their industry," Ms Peltz added.