Stormont union flag: David Ford hints at movement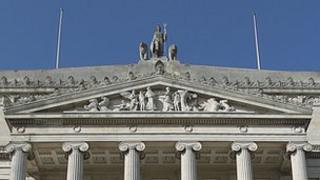 Alliance leader David Ford has hinted there could be movement in relation to a dispute over the flying of the union flag at the Stormont Assembly building.
Last month, unionists called for the number of days on which the flag flies over the assembly to be extended.
However, Sinn Fein, the SDLP and Alliance boycotted meetings of the commission which runs the building.
It followed the decision of Belfast City Council to fly the flag only on designated days at city hall.
Unionists tried to transfer the dispute to Stormont's Parliament Buildings.
The union flag currently flies over the assembly building for 15 days a year.
They wanted a review to examine increasing the number of days.
But the boycott by nationalists and Alliance stopped unionists wielding their voting majority on the commission which runs the building.
However Mr Ford told BBC Northern Ireland's Inside Politics that his party's representative has attended what he called a constructive meeting on the issue.
"I think we've at least seen that within the context of the assembly commission, thanks to the good work being down by my colleague Judith Cochrane, we're now seeing some measure of responsibility amongst MLAs which could start to solve the issues as they relate to Parliament Buildings," Mr Ford said.
A Stormont source said matters remain delicate - but unionists are hopeful Stormont officials may be tasked to produce a report on options for flying the union flag, with a view to a public consultation.