RUC widow, Phyllis Carrothers, asks for an IRA apology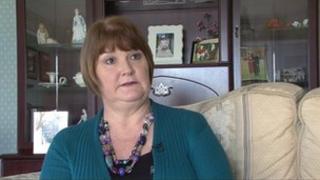 The Chairwoman of the RUC George Cross Widows Association has welcomed Gerry Adams' apology to the family of Garda Jerry McCabe.
The Irish police officer was murdered by the IRA in 1996.
Sinn Fein leader Gerry Adams made the apology in the Irish parliament and said "dreadful deeds cannot be undone".
Phyllis Carrothers, whose husband Douglas was murdered in 1991, would now like to hear an apology to the families of RUC officers.
The republican movement have issued apologies before, notably in 2002 and 2003, to what they termed non combatants.
The IRA also acknowledged the grief and pain of the families of police and soldiers - and it is to that group that some now believe the IRA should apologise.
In 1991 Douglas Carrothers an RUC reservist was killed when the IRA booby-trap bomb exploded under his car in County Fermanagh.
His widow, Phyllis Carrothers, says it is now time the IRA apologised to RUC families.
"It's very vague. I'd like clarification, does he mean families of the members of the RUC, UDR and army etc that were murdered by Republicans.
"What's stopping him by coming out and out rightly apologising and saying that, if that's what he means, otherwise he's just cloaking it," she said.
On Friday Garda Adrian Donohoe was shot dead during a robbery of a credit union in Bellurgan, County Louth.
'I am very sorry'
Det Garda Donohue, who was married with two children, was the first member of the force to be shot dead on duty since the murder of Det Garda McCabe in 1996.
Speaking in the Dail on Tuesday Mr Adams said the death of Detective Garda Donohoe had provoked memories of the killing of Garda McCabe and the wounding of his colleague, Garda Ben O'Sullivan.
"I want to apologise to Mrs (Anne) McCabe and the McCabe family, and to Garda Ben O'Sullivan and to the families of other members of the state forces who were killed by republicans in the course of the conflict," said Mr Adams.
"I am very sorry for the pain and loss inflicted on those families. No words of mine can remove that hurt. Dreadful events cannot be undone."
Gerry Adams apology has received mixed political reaction and raised a whole series a questions.
Political commentator Brian Feeney said the apology was a careful piece of political planning.
"It seems extraordinary as a turn around. Until about five years ago Gerry Adams had personally been lobbying for the men who murdered Garda McCabe to be released early under the terms of the Good Friday Agreement and now he is apologising for the murder," he said.
In response to the apology request Sinn Fein's chairperson Declan Kearney said: "This cannot be reduced to one side's responsibility. I think that we need to have a discussion in Ireland about how we can manage our past."